Juliska is a dynamic, design-led company committed to bringing elegant European design to our modern homes. Their collections reflect their strong philosophy of historical styling imaginatively updated to suit today's demanding lifestyles.  Chintz & Company carries the wonderful Juliska Berry & Thread in white and colour sets, the elegant Jardins du Monde and the stunning Pewter collection.
Juliska's rich European heritage spans six centuries and their designs combine these exquisite historic themes with imaginative new interpretations.  With exquisite transparent glazes on a tough stoneware ceramic body, this Portuguese stoneware ensures everyday practicality for all our ceramic collections as it is freezer, oven (up to 500 °F), microwave and dishwasher safe and highly resistant to chipping.
Juliska Tableware Collection Special Order at Chintz & Company.
JARDINS DU MONDE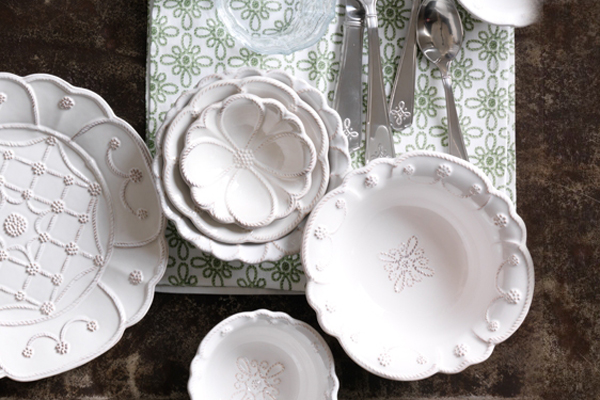 Lavish detailing and majestic shapes herald the Jardins du Monde collection, which pays homage to four of the world's most beautiful gardens - Landriana in Italy, Villandry in France, Alcazar in Spain, and Heligan in England. Evocative of the splendor of these idyllic settings, the collection can stand magnificently alone or serve to add a dash of grandeur to our classic Berry and Thread collection.
COUNTRY ESTATE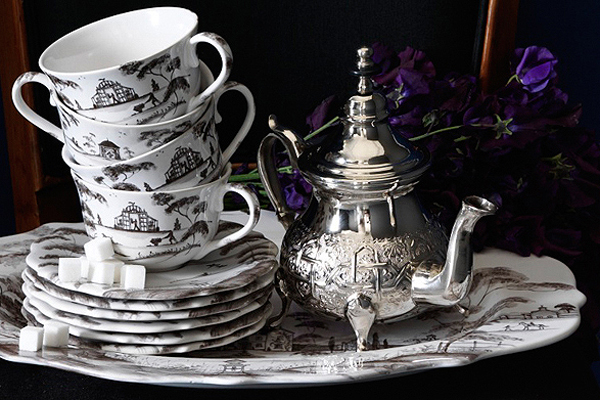 A charming narrative of English country life, with a different enchanting scene on each piece illustrating its romantic architecture, bustling activities, and grand vistas. By interlacing age-old decorative techniques with a chic, neutral, palette and unrivaled functionality, Country Estate maintains thoroughly modern sensibilities while still feeling from the manor born. Mix it effortlessly with many Juliska collections, most notably our Berry and Thread designs and cool Pewter Stoneware.
PEWTER STONEWARE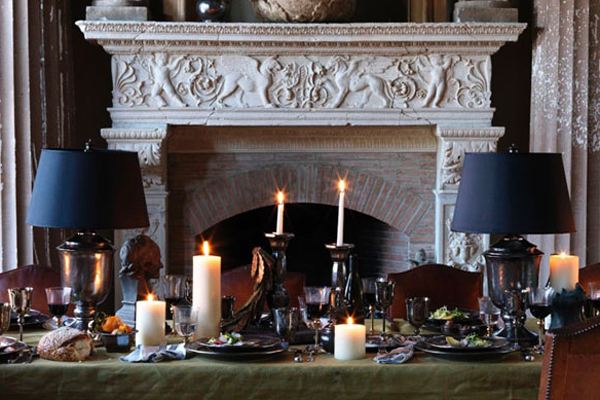 The Pewter Stoneware has an old-world luster that conjures up visions of grand European estates. Remarkably, our ground-breaking metallic glaze has the same unrivalled durability and functionality as all Juliska ceramics. Its hammered finish gives each piece an original, authentic look. The collection stands well alone, or can be used as a striking accent to other Juliska collections.
BERRY & THREAD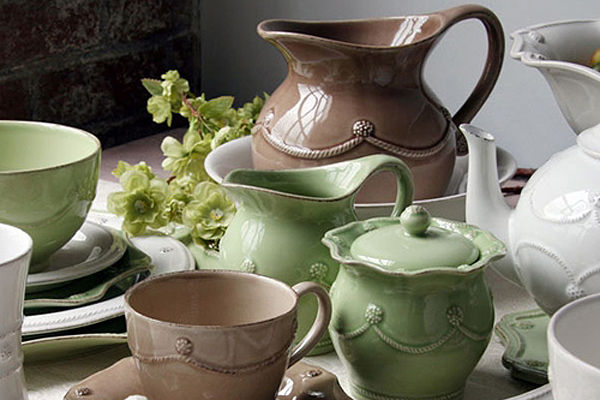 The Berry & Thread collection embraces historic Bohemian motifs. Its mix of various shapes, decorative compositions and colours were designed for you to layer in as you like to create your own story. Appropriate for both casual and formal entertaining, Berry & Thread has been a best-selling collection for almost a decade. Juliska's Berry and Thread dinnerware available in white and mocha. Functional and beautiful, this fine stoneware can go straight from freezer to oven, and is microwave and dishwasher safe.