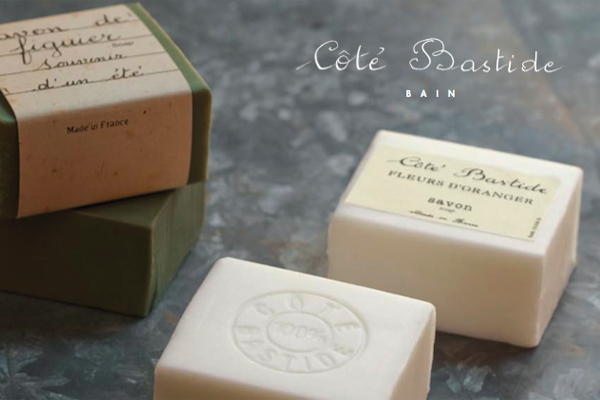 ABOUT COTE BASTIDE
Côté Bastide treats you to a warm sense of peace and serenity with its luxurious line of room sprays, body oils, lotions, potpourri, soaps, shower gels and candles. This French company aims to revive the old- fashioned, simple comforts of home that were once part of everyday life.

Among the most popular Côté Bastide products are their charming bath and body collection. Containing clean, natural scents that are impressively long lasting, they are suitable for both men and women. Try the exfoliant, body milk, or the body soap. These bath products are not only functional, but also make a stylish statement in your powder room. The packaging integrates a vintage apothecary look with a contemporary, upscale twist.

Côté Bastide can transform your home into a place filled with calm and a sense of well-being. If you wish to indulge in personal body care products, try a Cote Bastide product that will enchant your senses. These also make lovely, meaningful gifts for someone special.
---
THE ART OF LIVING COTE BASTIDE
We come into the world with immense naiveté, auspicious of its wonderment. Like a petty thief of emotions, we greedily pass through our childhood, accumulating a mixed treasure trove of new experiences and intense feelings, and then we become an adult. And, almost immediately, we forget. Yesterday's image fades away, to today's rhythm of conventionality, where we no longer have the time to exist, and not time to spare. Cote Bastide drew its inspiration from forgotten lessons. The profound desire to reawaken our dormant senses, to regain lost sensations, and to captivate our marvelous souvenirs, in one word, to remind us of the simple pleasures in life. The rare and yet familiar scent of an age old rose, the charm of hand crafted earthenware, the craftsmanship of cinnamon bundled and tied, contact with a pristine cotton sheet. Cote Bastide rediscovers the daily pleasures, to be enjoyed, shared and never to be forgotten.
Cote Bastide at Chintz & Company.
LIN (LINEN)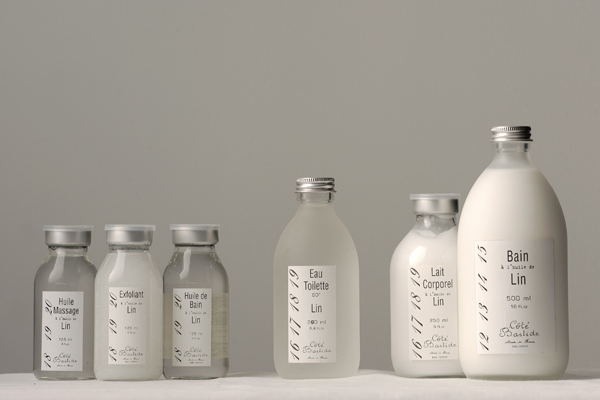 One the clothesline the sheets dance in the breeze... you can almost smell the perfume and the promise of a gentle rest... Rich in essential fatty acids, the linseed oil takes part directly in the regulation of coetaneous permeability, it is an excellent agent restructuring the hydrating skin. Its softening properties soothe, relieve skin irritations and the burns. It is excellent massage oil.
Bath Gel, Mist, Exfoliant, Lotion, Soap, Oil
PAMPLEMOUSSE (GRAPEFRUIT)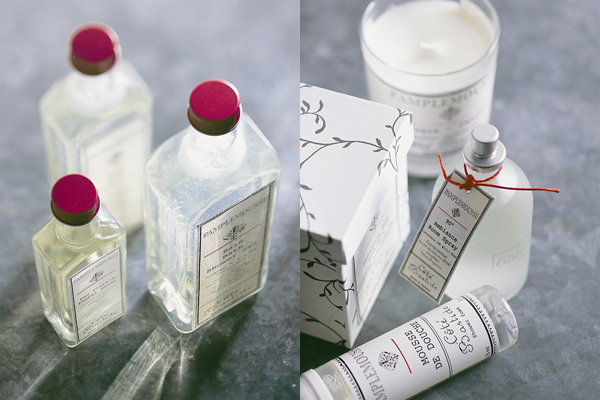 Sharp and sweet, light and refreshingly original the grapefruit range celebrates life. Rather like the clown's red nose there is cheekiness in this fragrance that comes in a simple but deceptive bottle.
Cream, Bubblebath, Water, Potpourri, Candle, Oil, Mist, Soap
ROSES ANCIENNES (OLD ROSE)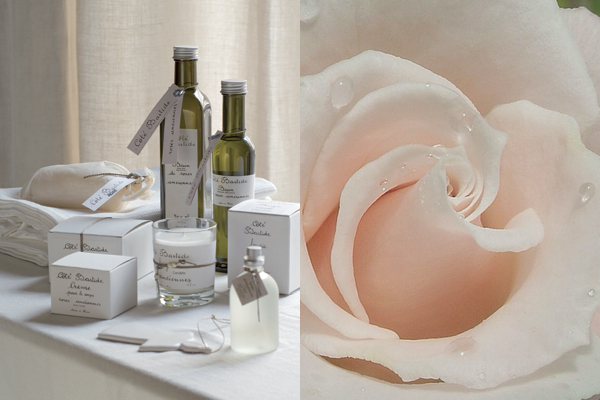 In a quiet corner of the garden a rose is blooming and a drop of dew slips down and releases the spirit of this well loved flower. Celebrated in this pure range you will be seduced by the delicacy of its gentle perfume.
Bubblebath, Bath Salts, Eau de Toilette, Bath Gel, Cream, Candle, Water
TILLEUL (LINDEN TREE)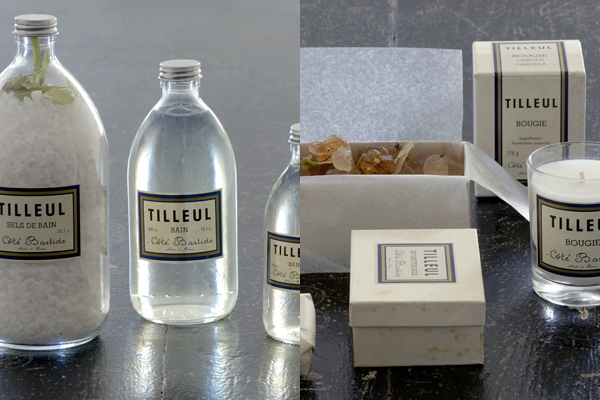 A majestic tree and symbol of Provence. The linden tree must have been created for the pleasure of a siesta under the shade of its branches. Just a perfect place. So just close your eyes...
Bath Gel, Bath Salts, Potpourri, Candle, Oil, Mist
AMBRE (AMBER)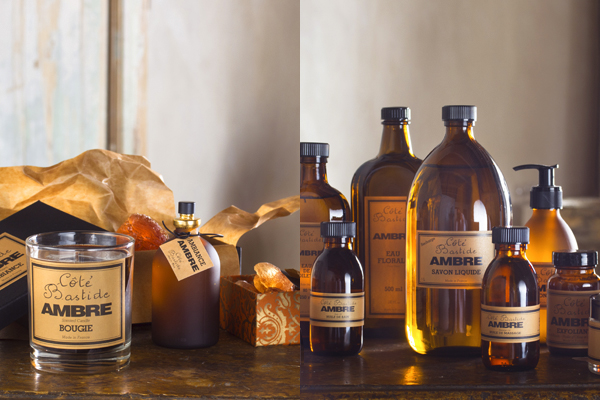 A warm fragrance from the Orient.
Soap, Bubblebath, Eau de Toilette, Mist, Bath Salts, Oil, Potpourri, Water, Candle, Cream
ARGAN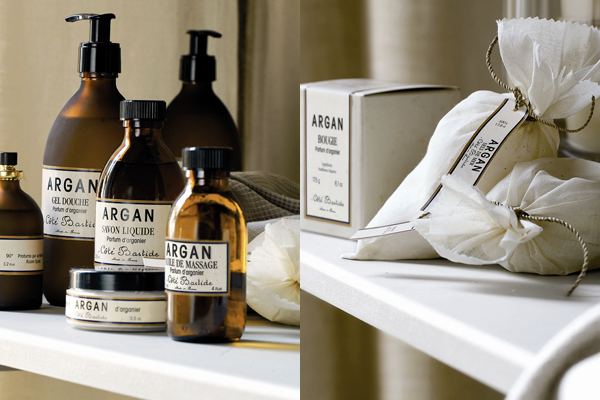 A natural range. Paraben free. An enchanting fragrance, evoking distant lands where the legendary beauty of the women invites us to share their secret...
Soap, Bath Salts, Candle, Bath Gel, Oil
CYPRES de TOSCANE (TUSCAN CYPRESS)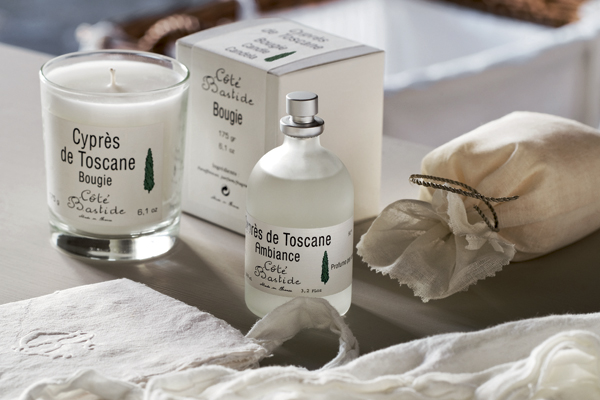 An orchard edged with cypress where a small quiet world is awoken so that grace is brought back to beautiful places.
Mist, Bath Salts, Candle
FIGUIER (FIG LEAVES)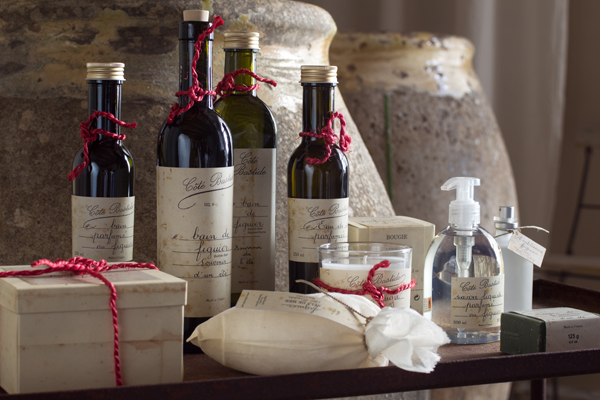 This fruity and woody fragrance reminds us the pleasures and fresh mornings of family under the sun incipient from an ideal south.
Soap, Bubblebath, Bath Salts, Potpourri, Candle, Oil
LAIT (MILK)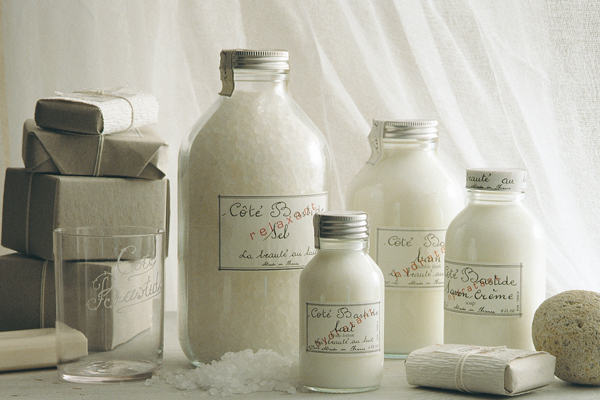 A world of purity and sensuality. Childhood memories... the milk range is white and pure and full of sweet and gentle sensations. That is why it is known as the drink of fairies. All the goodness of milk in line with the nutritive and lenitive properties.
Lotion, Exfoliant, Cream, Bath Salts, Soap
FLEUR d'ORANGER (ORANGE BLOSSOM)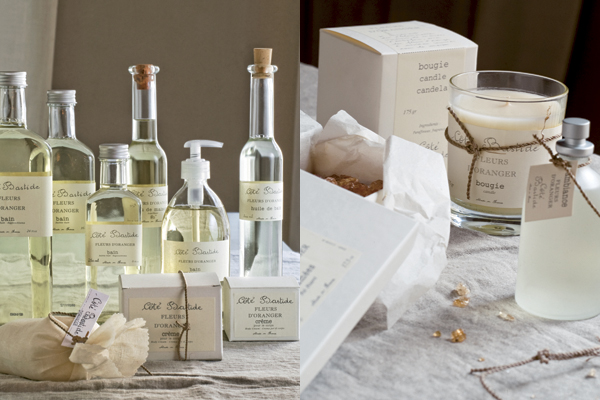 Subtlety and softness of a flower of the sun. The flower of an orange tree is recognized for its calming capacity.
Soap, Bubblebath, Cream, Mist, Oil, Water, Bath Salts, Potpourri, Candle
VETYVER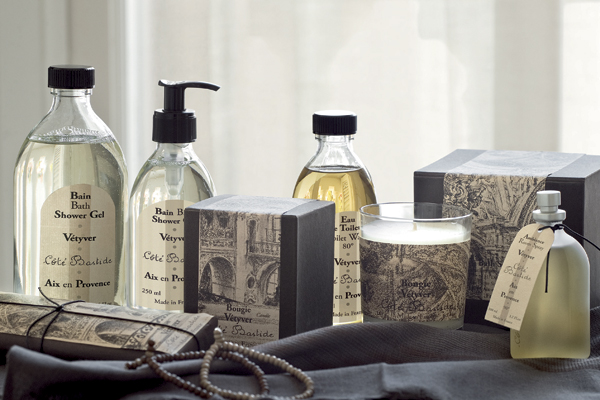 Classic for women and men. An elegant range with a rare and delicate perfume. There are traces of woodiness, which take us to far horizons. A range for men with its evocation of elegant escape. A light wind of vetyver flavour is sometimes enough to let us be carried away on the road to Madras, Mahe or Pondichery toward the dazzling landscape of tropical islands, or simply closer to the heart of a loved one.
Soap, Bath Gel, Eau de Toilette, Exfoliant