Chintz & Company carries state of the art, high end patio furniture including Cane-line and Gloster. Be inspired to create an outdoor living space for entertainment or purely personal indulgences such as afternoon naps in the sun! Create a beautiful and elegant patio, balcony or garden nook with these gorgeous patio inspired suggestions, and expand your living outdoors... 

Visit Chintz & Company's extensive Outdoor section!

CANE-LINE
Cane-line is a Danish company with its head office in Rynkeby (Odense) on the island of Funen. The company was founded in 1986 and has grown steadily to become among the leading European suppliers of maintenance-free design garden furniture.
MATERIALS
CANE-LINE WEAVE is a fibre made of dyed and hard-wearing polyethylene. Its water-resistant features make it withstand large temperature differences and is excellent for outdoor use. The structure of the fibres and the weave provide flexibility and optimum comfort. This material is UV-resistant and is overall maintenance-free. The Weave is made to withstand weather conditions all over the world and the material maintains its colour and shape for years on end.
CANE-LINE TEX is a coated polyester sling fabric excellent for outdoor use, requiring on a minimum of care and maintenance. Cushions with Cane-line Tex come with QuickDryFoam, which provides maximum drainage and air circulation allowing the cushions to dry faster after being exposed to rain or dew. QuickDryFoam also has antibacterial protection preventing fungus and mold growth inside the cushion.
DIAMOND COLLECTION
Renowned Danish designers Foersom & Hiort-Lorenzen (MDD) have created an extraordinary work of architecture in this design - which combines minimalism, comfort & most importantly - the ingenious all weather cushion seat & back. The cushions integrated to the construction of the frame are fully water-proof and all-weather so they do not require indoor storage off season. Imagine winters ahead with your patio seating inviting and cozy for basking mid day under our clear Canadian winter sunshine.
From the precise seams and straight lines creating the beautiful silhouette, to the comfortable and practical truly all-weather seat & back cushions. The Diamond lounge group is Danish perfection.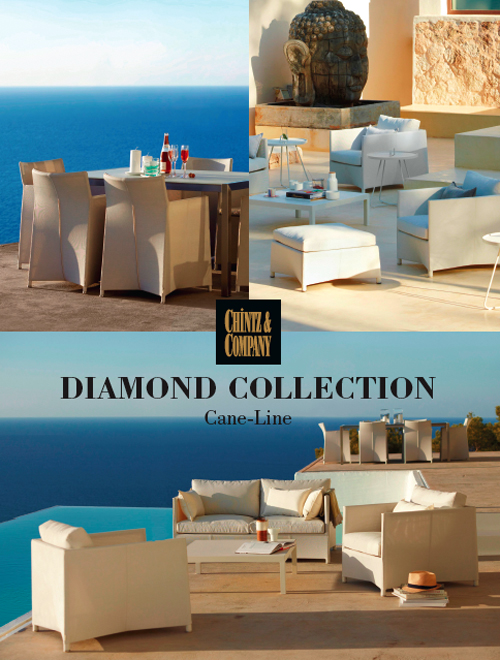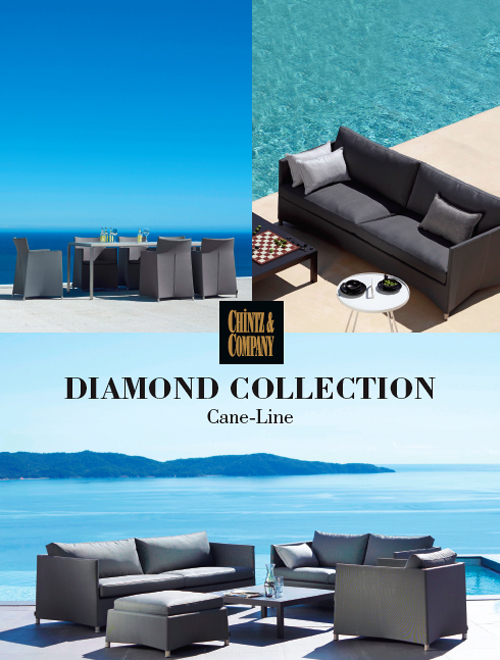 FLOW COLLECTION
The Flow lounge group is an open weave, modular sofa group that can be arranged and adapted in various settings. The new graphite weave is extremely versatile with an urban, sleek feel. The different combinations can be build with 2-seater sofas in either left or right modules, an extension chair, a corner module, a footstool, two chaise lounge modules (right or left) and a lounge chair.

CHESTER
COLLECTION
Chester is designed with clear, straight lines for a classic lounge look. The series consists of a sofa, a lounge chair and a footstool/low coffee table. Chester is the obvious choice if you do not need to be able to assemble the modules for different environments. Chester series offers a relaxing environment that is suitable for both the large roof terrace as well as the garden.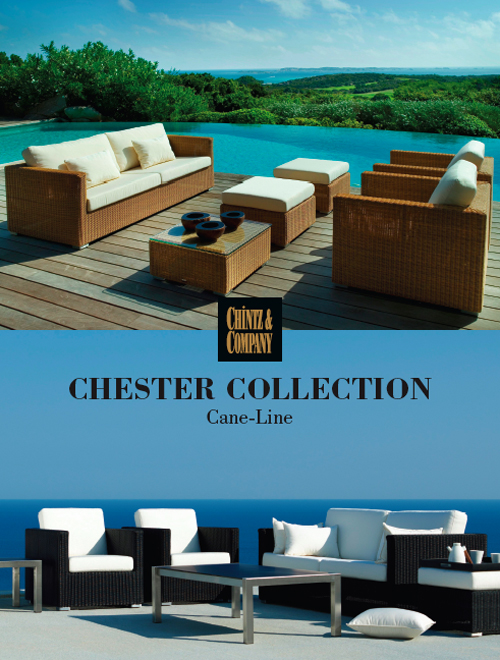 KINGSTON COLLECTION
Kingston lounge is a unique design that combines the best in modern design and functionality. All models are stackable despite their size, which is especially useful in situations where storage can be a challenge. The production of the Kingston range requires great precision and craftsmanship of our people in Indonesia. The result is unique and the obvious choice for a comfortable, modern sculpture for homes around the world.

BELMONT COLLECTION
Belmont is pure lounge-style in a simple design. The series consists of 4 modules and a corresponding footstool/low table, a side table, a sun bed and a lounge chair. Belmont modules can be combined at will, thus creating a myriad of lounge environments. Mutual for the range are its clean lines combined with comfort, which supports pure relaxation.

HAMPSTED COLLECTION
The Hampsted woven garden chair, ottoman and side-table are classic pieces that sit harmoniously with the other design collections. Timeless, comfortable and elegant.

---
GLOSTER
Gloster Furniture is a worldwide leader in teak, aluminium, stainless steel and outdoor lounge furniture. Whatever the material, quality is everything, and key to Gloster philosophy, is the belief outdoor furniture is as important a style statement as indoor furniture, hence the range incorporates both classic and contemporary designs to cater for all tastes and requirements. And, as it was right at the start over 50 years ago, Gloster remains committed to green and ethical policies in everything they do.
MATERIALS
Gloster is expert in the use of a variety of materials for the manufacture of furniture. Extensive use is made of stainless steel, powder coated aluminum, man­made wicker and sling material and there are specialist departments entirely devoted to the working of these materials. Every piece of Gloster furniture is manufactured to their high standards by skilled furniture makers and each item is hand finished to guarantee years of service even in demanding conditions. Only a minimum of maintenance is required to ensure your Gloster furniture leads a long and trouble-free life.
SPECIAL ORDER
Chintz & Company can special order Gloster Furniture and with an average of 2 weeks shipping time, it is easy to do and you won't have long to wait! Any of our sales associates would be happy to help you. In addition, Gloster has a vast selection of cushion fabrics to choose from so come in and have a look at their sample books and create your own look.


BLOC COLLECTION
Combining luxury with the ultimate in simplicity, Bloc, by Mark Gabbertas, is a strikingly geometric interpretation of the outdoor lounge trend. The basic square dimension common to all five pieces ensures the application of Bloc to any environment is as easy as it is varied.

---
HAVANA COLLECTION
Reassuringly familiar in styling, the Havana Collection shows how man-made wicker can be used to create a classic, elegant look with natural colours and rustic accents. Havana comes in a traditional line and a contemporary line - both beautiful and practical.
---
UMBRELLAS!
Chintz & Company carries a selection of Cantilever, Push Tilt and Shanghai Umbrellas with a fantastic choice of colours to bring comfort and shade to any patio or garden.